Austin is the capital of Texas—the "Lone Star State"—where over 1,000,000 residents live. Its residents are lovingly referred to as "Austinites," and the city is famous for its designation as the global capital of live music. As if that wasn't enough, Austin hosts the annual convention called South by Southwest (SXSW) which celebrates film, interactive media, and music. SXSW draws techies, music aficionados, and celebrities, and those who attend are idolized by others in their industries because it's such an exclusive event. Austin houses several Fortune 500 headquarters as well as major satellite holdings, including 3M, IBM, and Oracle. If your family includes a high school student or two, the
University of Texas at Austin
is one of the largest universities in the nation, with upwards of 50,000 students currently in attendance.
Depending on where you plant roots in Austin, you might depend on a car or accomplish most errands on foot. Most of Austin's suburbs and exurbs are spaced out and require motor transport. For example, consider West Lake Hills and Tarrytown. West Lake Hills, while barely outside the city limits and only five miles from downtown, is not very walkable. Residents in this affluent neighborhood effectively trade urban conveniences for beautiful parks and green spaces, like Red Bud Isle (a 17-acre dog park) and Turkey Creek Trail (ideal for hiking).
Just east of West Lake Hills, across the Colorado River, Tarrytown is within the city limits and that much closer to downtown Austin. Despite its urban designation, the Tarrytown neighborhood is hit-or-miss when it comes to walkability. Mainly a residential area, Tarrytown and its canopied streets attract a high proportion of families: it's a tightly-knit community in the social sense with a unique, albeit sparse, set of amenities and institutions — an art museum here, a golf course there, and a few restaurants and bars on Lake Austin Boulevard.
For the most walkable neighborhoods, one approach would be to scout out apartments or condos near UT Austin, which is walkable but relatively low in single-family homes. Instead, your best bets are Downtown Austin homes, along with those in certain other city neighborhoods.
Here's a rundown of the most walkable neighborhoods in Austin.
1. Downtown Austin (walk score: 99)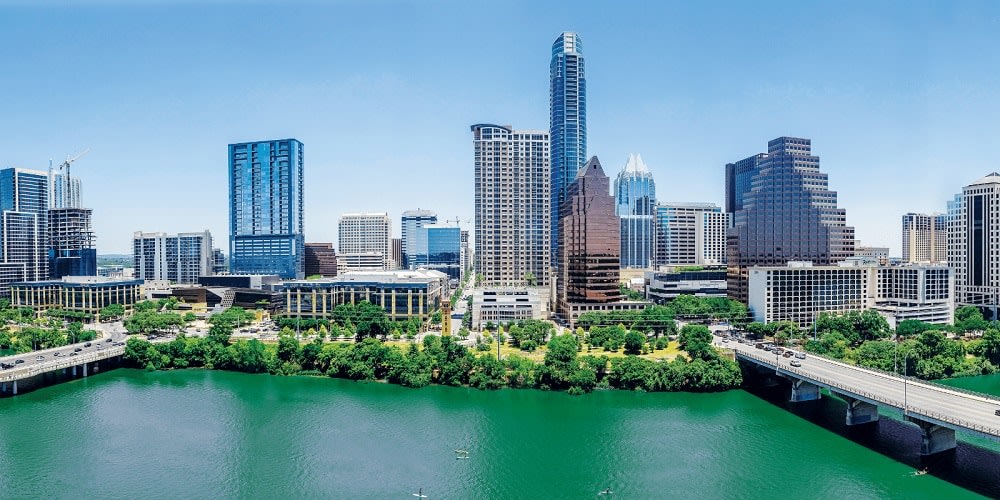 Photo courtesy of downtownaustin.com
With a maxed-out walk score of 99, Downtown Austin is one of the most pedestrian-friendly neighborhoods in the U.S. — all the more impressive once you factor in the density of its upper-echelon restaurants, bars, and entertainment venues. With few single-family homes to speak for, the neighborhood offers a surplus of luxury condos and high-rise apartments with balconies. Grocery and convenience stores are as accessible as cultural institutions like museums, art galleries, and the Austin Central Library. Athletes will appreciate easy access to recreational trails, while techies will love the co-working spaces and startups nearby.
2. West University (walk score: 89)

West University is in a neighborhood close to the University of Texas at Austin, about three miles north of downtown. With some 50,000 students in range, the demand for goods and services is high, so you can be sure that living here is a great place to be if you love walking. In this neighborhood, you'll have access to the public library, shops, and many varied restaurants and cafes within easy walking distance of downtown Austin homes.
3. Central East Austin (walk score: 84)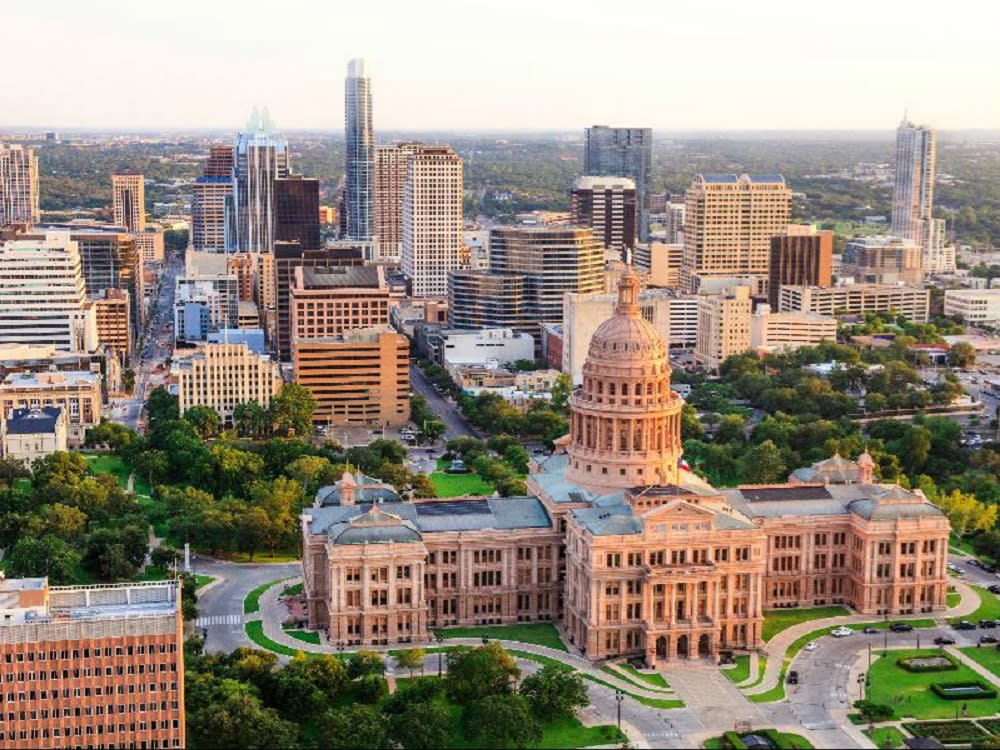 Photo courtesy of parkbench.com
In general, East and South Austin are the more walkable quadrants of the city, and Central East Austin belongs to the former. Located across I-35 from downtown, Central East Austin is a historic neighborhood whose recent growth is a function of Austin's thriving business district. Here you'll find vibrant bars, live music, and niche restaurants like
Tony's Jamaican Food
. Ideal for visitors in town for business, the neighborhood has three viable hotels in the DoubleTree, Wingate, and Cat Noir. Residents and travelers alike can reach most destinations on foot, and drivers have quick access to I-35.
4. East Cesar Chavez (walk score: 84)

East Cesar Chavez borders Central East Austin to its north and the Colorado River to its south. The neighborhood is known for its nightlife — instead of choosing between identical bars, residents divide their time between singular brewpubs, cocktail lounges, and live music venues. Many of these trendy spots are clustered on E. Cesar Chavez St., an old-town district with an increasingly modern feel. This walkable neighborhood is a lightning rod for arts and culture anchored by family-run Mexican restaurants, markets, and residences.
5. Old West Austin (walk score: 83)

Old West Austin was founded in the mid-1800s and has retained its old-world charm to this day. It is one of the city's original neighborhoods and is a perfect place to walk. There's a 10-block section—the district of Clarksville—that is considered a historical district and boasts narrow streets and takes visitors back in time to simpler days. Take a walk here and pass by cafes, unique gift shops, and galleries before you head off downtown, which is an easy 10-minute walk away.
6. Bouldin Creek (walk score: 82)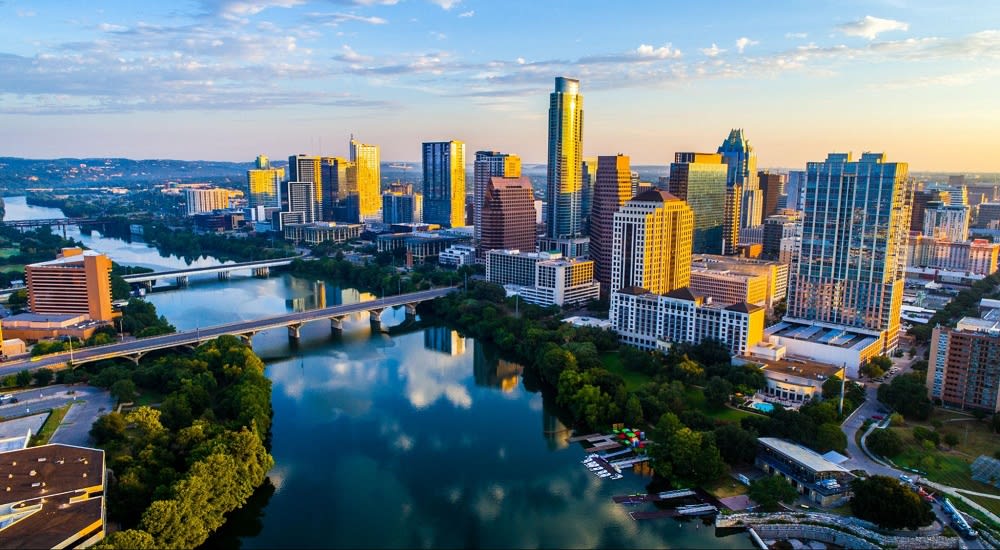 Bouldin Creek is located about one and a half miles southwest of downtown. It's more of a residential neighborhood that's rich with cafes, restaurants, and food trucks—all within walking distance of downtown Austin homes for sale. If you're more of a relaxed stroller who likes to stop every once in a while for a croissant and an espresso, Bouldin Creek is just up your alley.
7. Holly (walk score: 82)

The eastern neighbor of East Cesar Chavez, Holly is over 100 years old and earns a respectable walk score of 82. A magnet for new construction, Holly features a growing roster of single-family homes and upscale condos built for young professionals and families who may enjoy the neighborhood's unique access to Lady Bird Lake. However, the majority of Holly residents have lived there for decades. Shopping centers and grocery stores are walkable in the northern section of Holly, and residents enjoy restaurants, bars, and live music on E. 6th St., E. 7th St., and E. Cesar Chavez St. You'll also find it easy to stay active here: outdoor athletic facilities, playgrounds, and picnic areas coexist alongside gyms and facilities for boxing and dance.

Are you looking for a new home that's in or near a walkable neighborhood? If you're ready to take the next step when it comes to buying downtown Austin homes, reach out for guidance and to see what's on the market.

*Header Photo courtesy of theculturetrip.com